Have you had to turn down a sale to a visitor to your store from another country who wants to buy a gun to take home? Or a potential online sale to someone from another country who wants you to ship the gun?
New U.S. export regulations took effect in March. Now you can sell and ship sporting rifles, pistols and shotguns to citizens of other countries. There are no registration or license fees, but it is important to follow each step of the process carefully.
Follow these 12 steps to export most handguns, rifles and shotguns legally:
Ship the gun; In-store transfers are not possible
Know your customer
Obtain a copy of the buyer's import permit
Price for the international market
Determine whether an export license is required
Obtain an export license if required
Pack with the correct shipping documents
Submit an AES filing if required
Use a carrier that can deliver to the destination country
Let your customer deal with duties, import taxes and other import charges
Enter the export sale in your bound book
Keep records for five years
1. Ship the Gun; In-Store Transfers Are Not Possible
With few exceptions, ATF regulations do not permit FFLs to transfer firearms in their stores to visitors from other countries. The exceptions are outlined in the instructions for Question 26.d on Form 4473. They do not include sales to foreign visitors to the U.S. who simply want to buy a gun to take home.
If an FFL ships a firearm to another country, however, ATF regulations do not govern the sale. Export regulations do. Export regulations do allow FFLs to ship a gun to a foreign visitor's home address, as long as you jump through the right hoops, discussed below.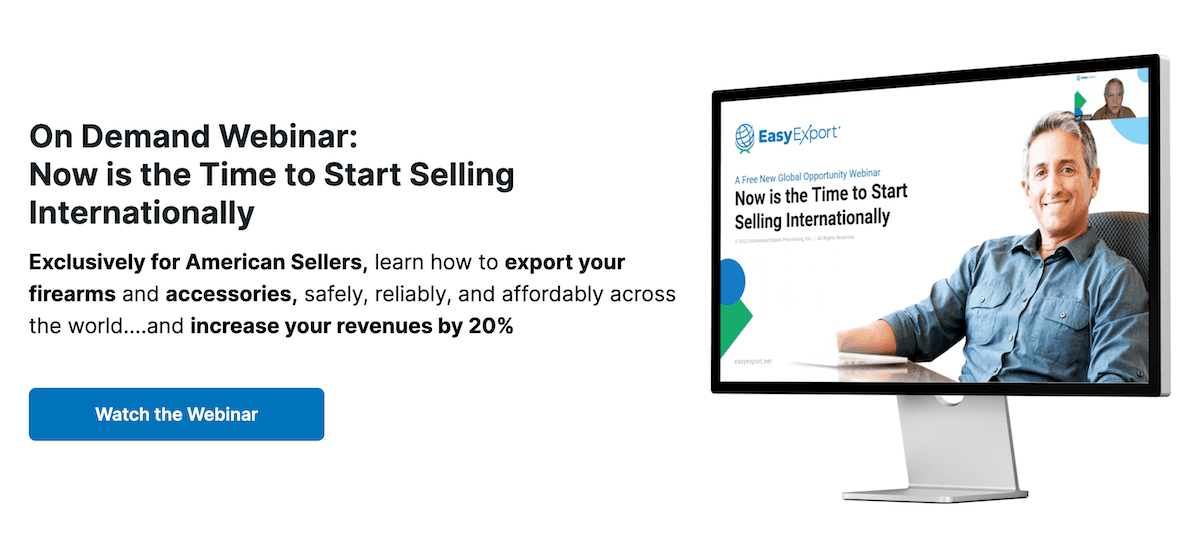 2. Know Your Customer
There is no NICS check for export sales. Instead, you are required to make sure the person you are exporting to is not a sanctioned party prohibited from receiving exports. You also want to satisfy yourself that there are no "red flags."
Here's how to do this for an export sale.
First, obtain the person's passport, check to make sure it looks genuine and hasn't expired, and make a copy of the photo and personal information pages for your records.
Second, chat with the customer. Try to confirm that the customer is on the up-and-up and that the firearm is legal in the customer's country. Look for anything that doesn't seem right. There are many possible red flags that should, if you spot them, cause you to decline to make the sale.
One would be an evasive customer who doesn't want to provide any information. Another would be a customer who knows very little about firearms, especially if that customer wants to buy more than one. The U.S. Commerce Department has posted a long list of other possible red flags. If you are not comfortable that the buyer and the intended use of the gun are legitimate, don't complete the sale.
Next, visit the export.gov Consolidated Screening List to screen the person's name against lists of sanctioned persons. You can do this when you leave the room to photocopy the passport. Input the person's name in the second block, turn "Fuzzy Name" on, leave the Address and Sources fields empty, and select the person's country of residence and, if different, the country of citizenship (both countries of citizenship in the case of dual citizenship). Then click on Search.
If you see "No result" to the left of the Search button, the name has been cleared. In the rare case where a name is returned after you click Search, you would be wise to decline the sale unless you can clearly determine that the name returned is not your customer.
Use the "print screen" feature on your computer to keep a copy of your search, both the completed search form and the "No result" that came back when you clicked Search. Keep the copy of the search with your copy of the person's passport and the other records of the transaction (see below).
3. Obtain a Copy of the Buyer's Import Permit
You should obtain a copy of the customer's import permit for the gun before you ship it. If the customer is in your store, they most likely will need to return home, obtain the import permit and email a copy to you.
A dealer's license or individual's firearms permit in the home country is not an import permit. Import permits clearly state that they authorize imports of firearms and almost always specifically identify the firearm(s). If English is not an official language in the customer's home country, request a translation together with a copy of the import permit in the original language.
Look at the import permit when you receive it. Does it look like an official government-issued document? Check the issuance and expiration dates to confirm that the permit is in effect. Confirm that the name of the importer on the permit corresponds with the name on the passport you copied. (If the customer is a dealer, ask the customer to provide a copy of the dealer's license. The name on the dealer's license should correspond with the name on the import permit.)
4. Price for the International Market
It is customary for exporters of firearms to be paid in full before they ship. Many take a 50% deposit with the order and collect the balance, plus shipping cost, before shipment, but after the export license and import permit have been obtained.
There are extra costs associated with exports. It is totally "market" to pass them along to the customer in the price or by adding them to the invoice. In addition to shipping, it is appropriate to add a service charge as compensation for the extra work, such as obtaining an export license. Anything in the range of $100 to $250, on top of shipping, would be in line with what other exporters charge.
That said, there is a silver lining when you export a firearm. FET is not collected on export sales so you can keep that portion of your price. You may decide to let the FET savings substitute for the service charge recommended above.
5. Determine Whether an Export License is Required
You will need to obtain an export license from the Department of Commerce, Bureau of Industry and Security (BIS) if the gun is a rifle, handgun or combination gun. Shotguns with barrel lengths of 18 inches or more can be shipped to 30 countries without a license. You can find a list of the 30 countries at the end of this blog post. Note that Canada is not one of the 30 countries; if you ship a firearm to Canada, will you need an export license.
You can use the following table to determine whether an export firearm license is required for the firearms specifically listed in the table. The table also includes information you will need for the export license (if required), AES filing and shipping labels (discussed below):
Type of Firearm*

Export Classification (ECCN)

Export License Required?

Schedule B No.

Handguns

Pistols – Semi-auto

0A501.a

Yes

9302.00.0040

Pistols – Other pistols

0A501.a

Yes

9302.00.0090

Revolvers

0A501.a

Yes

9302.00.0020

Sporting Rifles

Centerfire – Autoloading

0A501.a

Yes

9303.30.7010

Centerfire – Bolt Action – Single-Shot

0A501.a

Yes

9303.30.7012

Centerfire – Bolt Action – Other

0A501.a

Yes

9303.30.7017

Centerfire – Other

0A501.a

Yes

9303.30.7025

Rimfire

0A501.a

Yes

9303.30.7030

Sporting Shotguns (Barrel length ≥ 18")

Shotguns – Pump Action

0A502

All but 30 countries

9303.20.0030

Shotguns — Other

0A502

All but 30 countries

9303.20.0035

Combination Rifle-Shotguns

0A501.a

Yes

9303.20.0080

* List above does not include the items below. They all can be exported but the mechanics are outside the scope of this post:

Any type of firearm not specifically listed
Automatic firearms or firearms that shoot caseless ammunition
Firearms with caliber greater than .50
NFA firearms
Black powder or antique firearms
Magazines with over 50-round capacity
Blank-firing guns
Spare parts, scopes extra magazines not boxed with the firearms, sound suppressors
Ammunition
6. Obtain an Export License if Required
Export licenses authorize a specific transaction or group of transactions between one exporter and one purchaser. If you do multiple exports that require licenses, you will need separate licenses for each customer.
If the table above says an export license is required, this is how to go about obtaining one.
Start by registering with SNAP-R, the portal for submitting export license applications to BIS. Registration is free. Just follow the instructions here.
After your registration is complete, log in to your SNAP-R account. Login will take you to a screen that says "Welcome to SNAP-R." In the menu on the left side, click on "Create Work Item."
At the "Create Work Item" screen, make sure that the dropdown menu says, "Export License Application." Then insert a reference number you want to use for this license (you can choose any reference number you want) and click Create. That takes you to the license application. Instructions are embedded in the form, but you might want to watch this excellent 7-minute BIS training video for guidance on completing and submitting your export license.
After submission, you will receive an email confirming receipt of the license application.
You will be notified of the approval of your export license by email. Allow up to 30 days from the time you submit the license, but it is unlikely to take that long. You can check on the status here.
If you have questions, you will probably find the answer at SNAP-R Online Help for Exporters. If you can't find the answer, you will find a phone number for the SNAP-R Help Desk on that page. Additional BIS user resources are located at the BIS Home Page.
7. Pack with the Correct Shipping Documents
After the export license has been approved, or in the case of shotguns that do not require an export license, the next step is to pack the box.
When packing, be sure to pack the correct item. Do not include extra parts, magazines or optics.
You are required to include certain documents when shipping firearms internationally. You will find detailed instructions here.
8. Submit an AES Filing if Required
If you use USPS or another courier service to ship your gun (as opposed to a commercial freight forwarder), you will need to submit an AES filing prior to shipment. After you submit the AES filing, you will receive an Internal Transaction Number (ITN).
You will need to create a free ACE Exporter Account first. Do that here. After you obtain your account ID and password, click here and follow the instructions to obtain an ITN.
Additional information on submitting AES filings can be found here. A user guide with easy step-by-step instructions can be found here.
If you use a commercial freight forwarder to ship (see below), confirm that the freight forwarder will complete the AES filing on your behalf.
9. Use a Carrier that Can Deliver to the Destination Country
The United States Postal Service (USPS) will accept firearms for delivery to certain countries, including Canada. Click here to check on shipping restrictions that apply to shipments to your customer's country.
If USPS will not accept your shipment, you can check with the big-name couriers. Historically, they were reluctant to carry firearms, but since the change in export regulations earlier this year, there have been reports that in some cases, past policies may be undergoing changes.
As a last resort, you can use a commercial freight forwarder to arrange the shipment for you. This will work but is considerably more expensive than USPS or private couriers.
Use the table above for the ECCN (export classification) and Schedule B number. If the shipping label asks for the "HS Code," use the first six digits of the Schedule B number.
10. Let Your Customer Deal with Duties, Taxes and Other Import Charges
Duties, taxes and other import charges imposed by the destination country on the shipment are for your customer to address. They will be collected by the customer's government after the goods arrive in the destination country.
11. Enter the Export Sale in Your Bound Book
Don't forget to record the disposition of the firearm in your bound book. Record it as an export sale and enter the name and address of the customer. If you were required to obtain an export license, attach a copy to the record in your bound book.
12. Keep Records for Five Years
Keep a copy of every document or record mentioned or referred to in this article for at least five years from the date you ship. Also keep a copy of the delivery receipt and purchase order or sales order. Keep all the copies together in one folder (except for the bound book).
13. You're an Exporter!
Congratulations! You're an exporter.
It will be easier the second time.
Does this sound too hard? If you think you can sell 25 or more firearms or scopes a month from your website to customers outside the United States, EasyExport™ may be the right solution for you. Click here now to learn more and schedule a call.