If you're a gun owner or gunsmith in Australia, you probably wish you could buy American guns, parts, and accessories from the USA more easily and affordably. And with no surprises.
If you are a dealer, you may wonder how to buy American products your customers want but your Australian suppliers can't supply.
A service from the United States – EasyExport – solves this problem by enabling Australian gun owners, dealers, gunsmiths, ranges, and other businesses to buy directly from American sellers conveniently and at fair prices. All you have to do is register for free with EasyExport.
1. Understanding the Role of Export and Import Regulations
You may not think of it this way, but when you buy any product from the United States, that product is exported from the USA and imported into Australia. In today's world of global commerce, that ordinarily doesn't matter very much. Whether you are a business or a consumer in Australia, it is easy to buy most products from American sellers without considering export or import issues.
Guns, parts, and certain shooting accessories are different. American export regulations affect sellers' ability to ship these products to other countries legally and Australian import regulations affect your ability to bring them into Australia legally. Ignoring these regulations is a bad idea and can lead to fines, penalties, and even criminal prosecution in some instances.
But innocent mistakes can cause problems, too – mainly seizure of shipments as they leave the United States or enter Australia. And that's the real problem – innocent mistakes. American sellers find it too difficult to understand and comply with export and import regulations. And they worry about making mistakes, because even "honest mistakes" can lead to unhappy customers.
That's why it has been so hard, until recently, to buy guns and related products from American sellers. Most sellers have been afraid to ship internationally and buyers who understand the risks have been afraid to pay American sellers for goods that could be seized during shipment.
EasyExport frees American sellers and their customers from worry about export and import regulations. With EasyExport, American sellers and their customers in Australia can do business safely and confidently. EasyExport's software scans international orders and instantly identifies export and import requirements. If an order can be shipped immediately, the software clears the order for shipment. If an export license is required, the order will ship after EasyExport obtains the export licenses. EasyExport does not charge sellers for obtaining export licenses, so they don't charge their customers – you.
Import permits? Keep reading.
2. Some Items Require an Import Permit to Enter Australia
If you buy from an American seller who doesn't use EasyExport (if you can find one who is willing to ship to you), the most important thing to know about Australian import regulations is which products require an import permit before they can enter Australia. Don't assume the American seller will know. EasyExport sellers know, but others don't. They'll put the responsibility on you. So what do you need to know?
If any item in a shipment to you requires an import permit and you haven't obtained it before the shipment arrives in Australia, you should expect that the entire shipment will be seized by the Australian Border Force (ABF) when it arrives.
Which items require an import permit? To begin with, all firearms, including airguns, require an import permit. That part is easy. If it's a gun, an import permit is required.
Parts and accessories are not as easy. According to Australian Regulations, the following gun parts require an import permit:
Gas piston, friction ring, action bar, breech bolt or breech block

Barrel

Trigger mechanism

Frame or receiver (upper or lower)

Slide

Revolving cylinder

Bolt carrier

Folding, detachable or adjustable (by more than 120 millimeters) stock

Something other than a complete firearm, that includes one or more of the above items

Magazine, magazine body, or magazine extension device that increases the capacity of a magazine

Silencer, sound moderator, sound suppressor or any other device designed to, or capable of, reducing the noise of discharge of a firearm

Any device

designed to modify, or capable of converting, a firearm to give it burst fire, semi-automatic operation or fully automatic operation

Firearm parts to which either of the above accessories is attached or is integral
When you shop with an EasyExport Trusted Seller, you don't need to know whether the products you are buying require an import permit. EasyExport's software knows and will tell the seller not to ship until the import permit has been obtained. The EasyExport team will contact you to explain which items require an import permit. Best of all . . . the EasyExport team will prepare the import permit application for you at no charge.
3.

Import Permits for Category A, B, and H Firearms Are Issued by the Police Authority in Your State of Territory
If you buy from an American seller outside the EasyExport network, the questions don't end with knowledge that you need to obtain an import. You also have to know which type of import permit you need and how to obtain it.
Import permits for Category A, B, and H firearms are issued by the police authority in your state or territory. Applications are submitted to them. Use these links to get started:
There's one additional complexity if you are dealing with a Category A, B, or H firearm, part, or accessory. Import permits for these items are all called a B709, but there are different types of B709. Individuals need to obtain a B709A for Category A and B firearms and parts and a B709D for category H firearms and/or parts. Dealers obtain a B709DA permit, which can be used for multiple imports.
Additional information about import permits for Category A, B, and H firearms can be found at the Australian Border Force website.
4.
Import Permits for Category C and D Firearms and Prohibited Firearms Are Issued by the Department of Home Affairs
Import permits for Category C and D firearms and prohibited firearms, and for their parts and regulated accessories, are obtained from the Department of Home Affairs. Applications are submitted online here.
Products that require import permits from the Department of Home Affairs generally are importable only by firearm dealers, sports shooters, vertebrate pest controllers, or for official purposes (for supply to the Government of the Commonwealth, a state or a territory), repairs, modifications, testing, training, research and development, or for use in the production of a film.
5. The Important Secret You Won't Find in Australia's Import Regulations
To minimize the risk that your shipment will be seized by ABF, it is important to know that ABF's interpretation of Australia's import regulations may not agree with yours, but theirs is the one that matters. If ABF thinks a product you bought from the USA requires an import permit, they will seize the shipment unless the import permit has been obtained in advance. You won't have an opportunity to debate with them.
Be especially careful with triggers. You and the seller may call the item you bought a "trigger", but if it consists of two or more parts connected to each other or intended to be connected, get an import permit in case ABF considers it a "trigger mechanism". They probably will. We have seen it.
Also understand that sometimes ABF may interpret import regulations for firearms and parts differently than the police agency. If the border agents inspecting your shipment believe that an un-controlled part requires an import permit (they have), your shipment may be seized even though an import permit is not required.
The bottom line is that you can fully and faithfully comply with Australia's import regulations and still find yourself with a seized shipment. For this reason, some importers in Australia believe that it is best to apply for a B709 for every item you purchase.
We think that's overkill. If you buy from an EasyExport Trusted Seller, it isn't necessary to apply for an import permit you don't need and then wait weeks to receive it. Most of the orders EasyExport sellers ship to Australia do not require an import permit. Those orders are shipped right away. Buyers receive them, without incident, many weeks sooner than would be the case if they waited to receive an unnecessary import permit.
6.
What Should You do if Your Shipment is Seized?
If your shipment is seized by ABF, all may not be lost. If you are eligible for an import permit, you can apply for it after your shipment has been seized. But you must act quickly and address both the seizure and the import permit.
Here is what to do if you receive a written notice that your shipment has been seized. It will say "Seizure Notice" at the top.
First, read the Seizure Notice. It will state the date the seizure occurred. Pay attention to that date. As described below, you must act within 30 days after that date. The Seizure Notice also will identify the "Goods Seized". These are the items responsible for the seizure. The "Goods Seized" may include only one of the items in the shipment. Rest assured, however, that the entire shipment has been seized.
Second, determine whether your firearm licence authorizes you to buy the item or items mentioned in the Seizure Notice. (For help with this determination, see the discussion earlier in this blog.) If the answer is no, you are out of luck. You are not able to import from outside Australia an item you wouldn't be allowed to buy in Australia. If the answer is yes, read on. You will be able to recover your shipment if you act quickly.

Third, apply to the police authority for the correct B709 import permit. Use the links above to access the correct form for your state or territory. Submit the application to the police for your state or territory even if the Seizure Notice states that the seizure occurred somewhere else. We recommend including every item in the shipment when you prepare the B709 application, even if the Seizure Notice only specified one or two items. In the B709 application, advise the police authority that your shipment was seized and provide the details. It's important for the police authority to know that the goods have been seized. In the end, that will help you get the shipment released.

Fourth, you must submit a Form B144 to ABF. This must be done within 30 days of the date the seizure occurred, not 30 days from when you received the Seizure Notice. The seizure may have occurred as much as two or even three weeks before you received the notice, so submit the B144 immediately after submitting the B709. You can obtain a Form B144 here. In the B144, let ABF know that you have applied for a B709.
Fifth, after you receive the B709 import permit from your police authority, you must resubmit the Form B144 to ABF. It generally takes between one to four weeks to receive a B709 from Australian police authorities. Even if your shipment did not require an import permit, you will receive a B709 if you have indicated on the B709 application that your goods were seized.

Sixth, wait to receive your goods. If your goods arrive within a month after you submit the second B144, consider yourself fortunate (under the circumstances). If receipt takes three months, you were unfortunate, but that can happen. Keep in mind that you can shorten this timetable a little by acting quickly at each step.
When you buy products from an EasyExport seller, you minimize the risk that your order will be seized. But, it is possible for a shipment to be seized even though everything was done properly. Whatever the cause, if something goes wrong with a shipment from an EasyExport seller, the EasyExport team steps in. You will receive free guidance and support to ensure that the story of your shipment has a happy ending.
7. Don't Let Australian Import Duties and GST Surprise You
When you buy guns, parts, or accessories from the USA, expect to pay GST, and possibly duties, when the goods are delivered. To avoid surprise, take these costs into account when you calculate the full cost of what you buy from American suppliers, the same as you take shipping and other costs into account.
There are no import duties in Australia for firearms, shotgun barrels, or optics, regardless of their origin. Firearm parts produced in the United States are also exempt from import duties. Firearm parts, other than shotgun barrels, made outside the United States will incur a 5% import duty.
There is a 10% Goods and Services Tax (GST) for all imports into Australia. When GST is calculated, the 10% tax applies to the price of the goods plus shipping, insurance, and any applicable duty.
Shopping with EasyExport sellers doesn't change this requirement, unfortunately, but EasyExport registered buyers in Australia will find a calculation tool and other information in the FAQs in their EasyExport account. EasyExport experts also are available to answer questions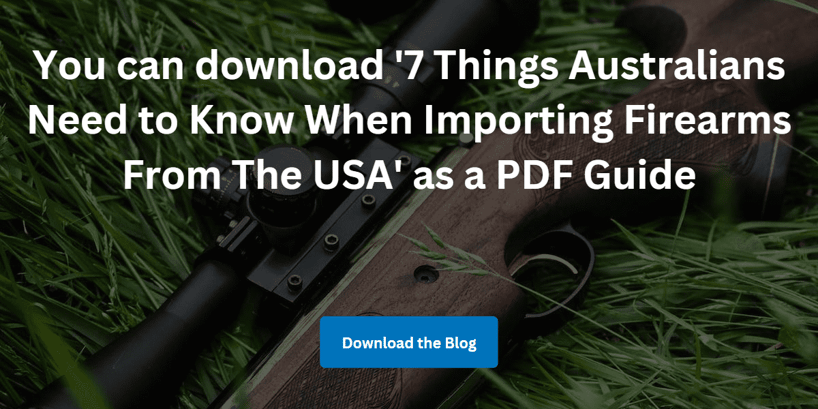 Register with EasyExport so you can buy American products conveniently and with no surprises direct from American sellers
Register with EasyExport to enter sports shooters' heaven – Convenient access online to a growing catalogue of quality American products available for purchase directly from trusted sellers who ship to Australia every day.
Licenced dealers, gunsmiths, and ranges who register with EasyExport instantly open the door to direct relationships with American manufacturers and other sellers. Use the tool in your EasyExport account to apply for trade relationships in minutes.
When you register with EasyExport, you do business with the seller as you would with a seller in Australia. EasyExport makes sure the international part of the transaction goes smoothly. Register with EasyExport to buy American guns, parts, and accessories with no worries.