There are numerous advantages to exporting firearms from the USA. However, there are many challenges, too. It can be difficult to expand into new markets, especially when selling restricted goods like firearms where there are various laws and regulations across countries that you must adhere to.
The good news is that a firearms merchant export strategy can help make things more straightforward. By developing a firearms merchant export framework, you can create your business' own, personalized, step-by-step guide for successfully exporting firearms from the USA.
But before you begin, there are a few things you need to know. By considering these 8 essential things, you'll be able to develop a strategy that really helps you deliver.
1. Where your opportunities lie
Not every country will be a valuable addition to your approved shipping list. Some countries have very stringent import laws, for example, which can make it very difficult for customers to buy from a US-based merchant.
Other countries may not have much demand for US exports. By considering where your opportunities lie, you can build a firearms merchant export strategy focusing on the highest value regions.

2. How you'll find customers
If you've previously only sold to US-based customers, you should have a plan in place for reaching out to international buyers. For example, you may market your products through your website, by using influencers, or via third party selling partners.
By knowing this, you can build a firearms merchant export strategy that takes into account the methods that will be required to market and sell via your chosen channel.
3. How you'll manage international orders
How will you receive, process, verify, and ship orders from outside the United States? With increased paperwork required to export firearms from the USA - and an expanding customer base to handle - the workload may be more than you can deal with.
So, whether you require more staff or you need to implement new software solutions, how you're going to manage international firearms orders will form a big part of your firearms merchant export strategy.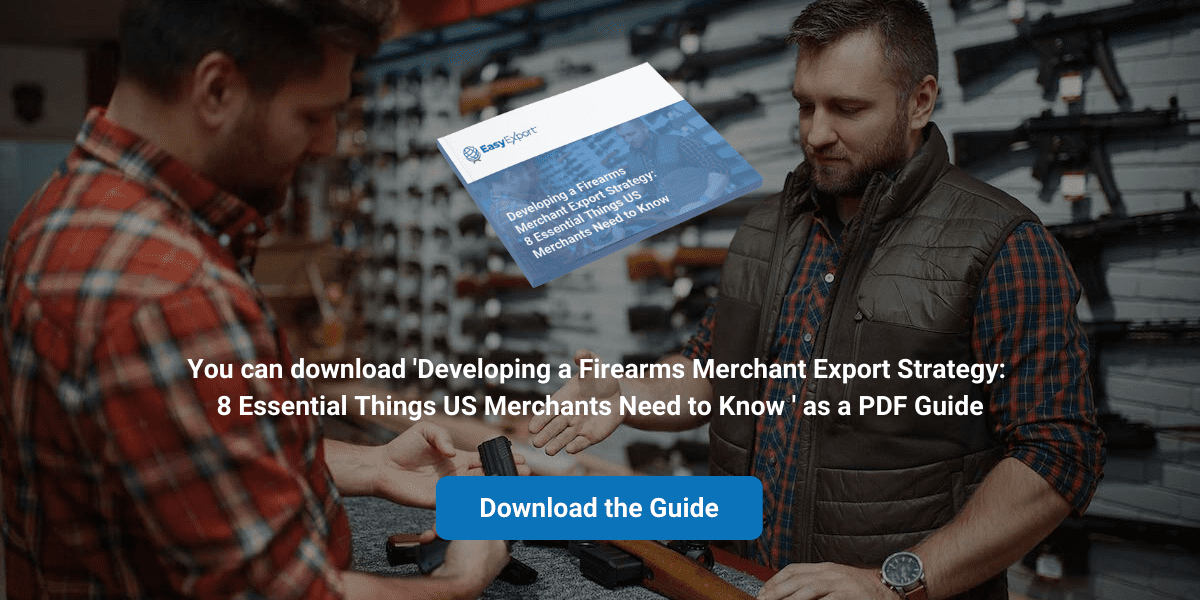 4. How you'll remain compliant
Your firearms merchant export strategy must be rooted in compliance with the Export Administration Regulations. Therefore, it's important to know exactly how you'll remain compliant and prevent what could be very costly mistakes.
You'll need to ensure you're applying for export licenses for relevant orders, and vetting buyers, too. This is best done by people with an understanding of US export regulations, so your internal team may not be the best fit.
5. How you'll ship goods
Any good firearms merchant export strategy should include logistics, so knowing how you'll ship goods internationally is an important consideration.
Not only will you need to select an option that is available in your shipping software and is affordable for your customers, but also one that will accept firearms and related products. Also consider the need for properly completed documents to ensure fast processing at customs clearance.
6. What challenges you may face
Your firearms merchant export strategy is a good place for outlining solutions to potential problems, so knowing what risks are most likely to occur is very important.
Challenges will be shaped by the countries you're choosing to sell to, as each market will pose its own unique risks. However, it's also a good idea to consider more widespread risks such as the time it takes to secure licenses, customer language barriers, and more.
7. How you'll measure success
The entire point of developing a firearms merchant export strategy is to guide you towards success. If it doesn't achieve that, then the strategy must be amended to help drive improved results.
However, you'll never know if your strategy is helping unless you know what success looks like to you. What metrics or key performance indicators will you use to measure success and track the impact of your strategy?
8. How you'll stay ahead of the competition
One critical part of any firearms merchant export strategy is outlining how a business will venture into new markets while also remaining at the forefront of the industry.
You'll need to think about how you're going to offer a service to international customers that's better than the service your competitors can offer, as well as how you're going to maintain the already high level of service you're offering to US customers.