Firearm merchants are not restricted to selling only to US-based customers. In fact, there are many countries all around the world that merchants can safely and legally export to, providing them with an opportunity to capture new markets and increase profits.
However, exporting internationally is not quite as straightforward as selling domestically, especially when it comes to shipping firearms overseas due to the Export Administration Regulations (EAR).
There are a number of shipping-related challenges that merchants may experience throughout their exporting operations. Acknowledging and becoming aware of these challenges is the first step towards identifying and implementing a suitable solution.
Here are the 6 challenges that many merchants face when they decide to export firearms from the USA:
1. Understanding what needs a license
Before items can be shipped internationally, an export license from the Bureau of Industry and Security (BIS) may be needed. However, export licenses are only needed for certain items and shipments.
Even if merchants spend hours and hours reading about what does and what doesn't require a license, it's still not always easy to figure it all out. Export regulations are highly complicated.
Merchants may apply for an export license unnecessarily… or fail to apply for a license when one is needed.

2. Understanding what can - and what can't - be shipped to individuals
It's not just the challenge of understanding what requires a license, but also the challenge of understanding which products can be shipped directly to an individual buyer, and which products need to be shipped via gun dealers.
As a general rule, firearms, receivers, and frames should not be shipped to individuals, which means a dealer will need to be involved when shipping firearms from the USA. Merchants can find out more about these regulations by checking out FAQs posted by BIS.
3. Performing regulatory checks on purchasers
While shipping firearms generally cannot occur until an export license is granted, it's also important to remember that shipments cannot leave until other regulatory checks have been conducted, too.
Purchasers need to be authorized to legally bring a US firearm into their country. Generally, an import permit is required and the US exporter must obtain a copy.
Additionally, merchants are prohibited from shipping firearms to certain people or businesses if they are included on an official list of sanctioned parties.
4. Handling paperwork and managing compliance
Shipping firearms internationally can create a mountain of paperwork - and a significant processing challenge - for merchants.
The primary risk here is that the initial challenge could lead to a number of secondary challenges that produce long term impacts on the business.
For example, merchants may struggle with increased costs due to the need to hire more skilled staff with export knowledge to effectively manage increased workloads. Or, mistakes can lead to hiring attorneys to address regulatory violations.
5. Finding a carrier
Perhaps one of the biggest challenges merchants face when shipping firearms is the physical act of getting them to their destination.
With the official policy of most leading carriers - including FedEx, UPS, and DHL - being that they will not carry firearms, it can be difficult to find reputable, affordable, and reliable international logistics solutions that will accept such goods.
6. Reliable and affordable deliveries
Happy customers are the secret to the success of any business. However, building up a network of happy international customers can be tricky due to the challenges that merchants face in delivering firearms affordably and reliably. There are two risks standing in the way of a speedy receipt of goods.
The first is delayed delivery due to the lengthy process of gathering the information needed to apply for a license and vetting purchasers. The second is customs delays if the correct documents are not present.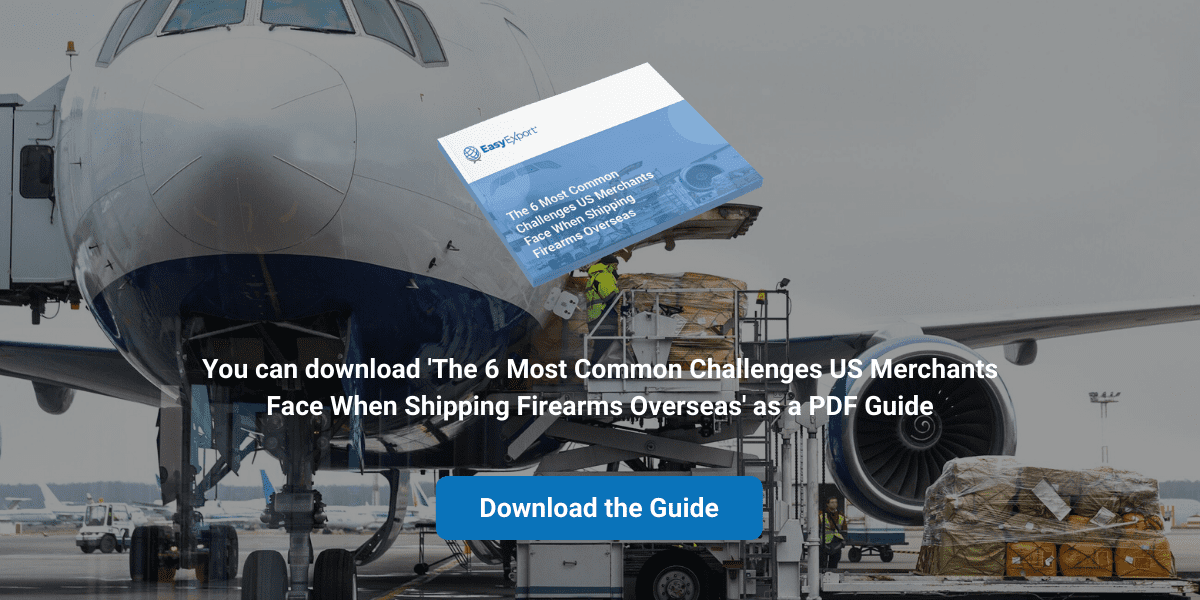 Addressing the Challenges
Challenges in shipping firearms internationally certainly exist. But there is good news. There are ways to address these challenges, reduce the risk associated with shipping firearms outside of the US, and increase the chance of exporting successfully.
One method is to use a platform like EasyExport which quickly identifies items needing a license, vets purchasers, handles all necessary paperwork, and makes it easy to ship reliably and affordably.