Unsure about automating your firearms export process? Here are seven top advantages that gun merchants across the US are benefitting from by using export software:
1. Automation saves time
For merchants developing their very first firearms export process, there's a lot to take in. The rules, the regulations, the legalities - not only within the United States but within every international market the business is aiming to break into - can be complex.
Organizations are finding that they're spending hours upon hours reading up on import and export regulations.
Handling international firearms sales manually can be a significant time sink if merchants want to go it alone. Tools that automatically read and comprehend data - and implement the correct and necessary actions - can be powerful time savers.

2. Automation saves money
As many merchants are beginning to discover, a firearms export process is best handled by those with an understanding of US export regulations, including the Export Administration Regulations.
Most merchants that have previously focused on domestic transactions won't have those skills onboard.
This means a need to hire skilled staff to handle the increased paperwork, data, and documentation with confidence.
Expanding the workforce may not be a financially viable solution, especially with high costs of recruitment, and salaries which are likely to be more than the cost of software.
3. Automation reduces errors
Merchants often ask 'what am I missing?', or 'have I done everything I needed to?'. And with there being the possibility of criminal penalties for non-compliance with the Export Administration Regulations (EAR), it's not surprising they're asking these things.
It leaves merchants nervous about exporting firearms from the USA, which increases the risk of mistakes being made. With automation, there's no 'what if?'. There's no room for error.
Automation ensures that every order has every box checked before a shipment goes out, giving merchants peace of mind they're operating legally.
4. Automation makes processes more efficient
The manual firearms export process is long winded and labor intensive. From checking an order for ECCN classifications to vetting purchasers to applying for licenses - and everything in between - it takes time.
And the longer it takes to get all the ducks in a row, the longer a customer is waiting for their shipment.
Automated processes are more efficient, completing necessary tasks in a much shorter time and flagging possible issues quickly before they become major problems. This enhanced efficiency facilitates better, smoother, more timely deliveries to your customers.
5. Automation builds loyal customers
While there are many elements that can affect the experience a customer has with a firearms merchant, there are even more risks when it comes to building satisfactory experiences for international customers.
Customs, for example. Simply forgetting to add a necessary shipping document into a consignment could result in delays at customs clearance, or even in the goods being seized before they reach the customer.
Automation eliminates nasty surprises, provides peace of mind that the same firearms export process is being followed every time, and builds loyal fans.
6. Automation frees your resources up for new growth
Even if hiring more staff, the more international orders that come in, the more international paperwork your business has to deal with before it can export firearms from the USA. It can become consuming, leaving your employees with little to no time to do anything else.
Automation can help, taking over the more mundane, time-consuming activities such as checking what goods do - and don't - require an export license, freeing up your resources to drive new growth.
When your team isn't bogged down with documentation, they're free to innovate, identify new products to sell, and nurture customer relationships.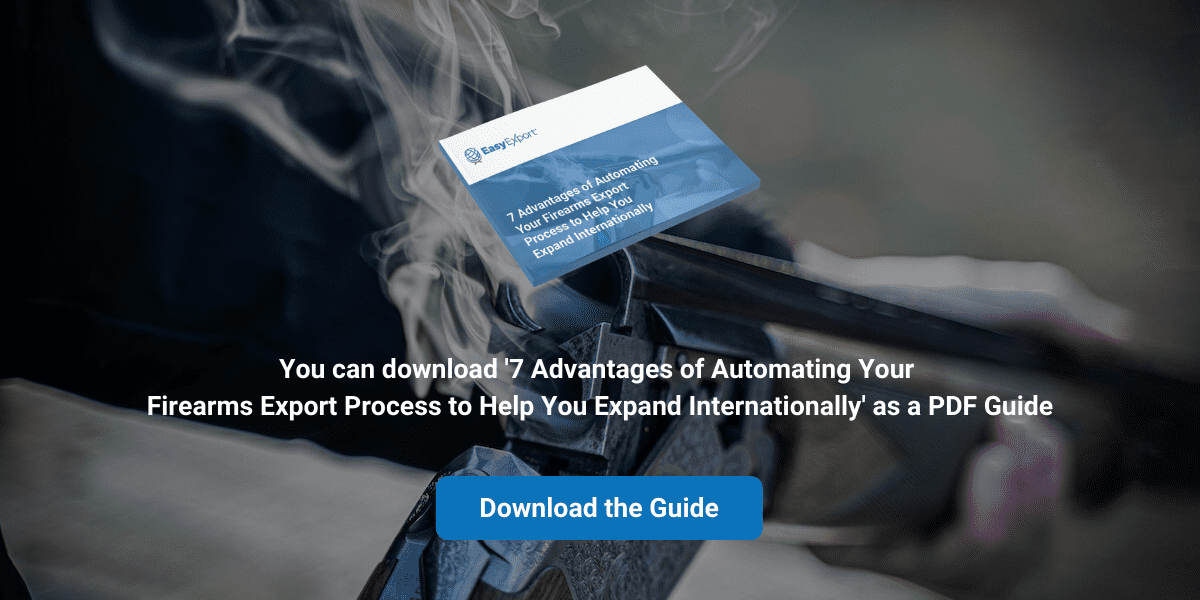 7. Automation helps to maintain your competitive advantage
Automation breaks down many of the biggest barriers standing in the way of international selling. Exporting firearms from the US is legal. And yet so many merchants opt not to even try it because of all the rules, regulations, and complexities surrounding it.
This means that the few merchants that do go ahead are dominating the industry and leaving the others trailing behind. Automation is key to overcoming the obstacles and getting back in the game.
Anything that makes international exports easier is going to help your business remain competitive.