The worst of the COVID pandemic is behind us but US sellers still face being locked down when it comes to the export market for firearms, parts and accessories. Market growth is stagnant – and that isn't due to a lack of demand.
While the domestic market is cooling, there is a global demand for high-quality US manufactured parts. The issue is that this opportunity hasn't yet been fully realized or exported, with export figures remaining flat.
Our analysis shows that exports of firearms and related products totaled $1 billion in 2021, this represents a 3.25% increase over 2020 and a 2.3% increase over the average for the last 36 months – but growth is flat.
This isn't the full story though, as international buyers do have an appetite for US manufactured products. The problem has been historically, the process of exporting has been difficult.
We are however starting to see the first shoots of that situation changing.
Regulation changes are opening up new avenues
of opportunity
Responsibility over the export of non- military firearms, components, and ammunition passed from the State Department to the Commerce Department in March 2020.
In addition, the cost of the license required to export firearms from the USA was removed and the value of firearm parts that can be shipped to countries other than Canada without an export license increased from $100 to $500.
These changes represent an opportunity for American sellers and make exporting a more attractive prospect.

Small commercial orders are growing
Many American merchants don't need to target bumper sales for exporting to become an attractive prospect.
Our latest EasyExport Insights™ Annual Report shows that there is an appetite for smaller, commercial orders amongst international buyers – business that could represent a lucrative new addition for US Sellers.
Our figures show that 53% of orders processed by EasyExport merchants in 2021 were for smaller orders below the previously significant $10,000 benchmark. Orders below that threshold would have been a hassle to process under the ITAR regulations.
Today, those orders can be more easily handled, meaning sales are there for the taking.
B2B demand is high from international buyers
There is a voracious B2B appetite in play on the international stage, with overseas businesses exhibiting a strong desire to buy from American merchants.
A total of 70% (by value) of orders processed by EasyExport merchants in 2021 originated with international dealers.
This is a significant development and worthy of exploration by all US sellers exploring additional avenues to grow their revenue by shipping firearms parts and accessories overseas.
Leading exports
The biggest exports by value across the last 36 months was ammunition for rifles and pistols. This represented $587,177,867 of business.
The next closest export was pistols, with an export value of $419,111,292, followed by military rifles at $337,856,106.
Also in high demand were binoculars, telescopic sights for rifles, parts for sporting rifles, spring, air and gas guns, centerfire and other non-military rifles, parts for military rifles and parts for revolvers and pistols.
Source of demand
Demand exists in many locations around the globe – much of which is untapped by the majority of US sellers.
While demand also varies by firearm part and accessory type, there are a number of countries that demonstrate a high level of demand for US manufactured parts and accessories.
Exports to Canada account for about 20% of all exports of firearms and related products, far more than to any other country but there is also notable export volume to Thailand, Brazil, Germany, Poland, Australia, Germany, France, New Zealand, Switzerland and South Africa.
Thailand has been the leading destination for exports of American-made pistols over the last three years, importing more than twice the amount imported by the second-place country, Canada to a value of $138 million.
Exports to Brazil have more than doubled, growing from $7.8 million in 2019 to $16 million in 2021.
Australia meanwhile imported an average of $78 million worth of American firearms and related products in the same time period, while Germany imports $3 million of American-made bolt action rifles per year.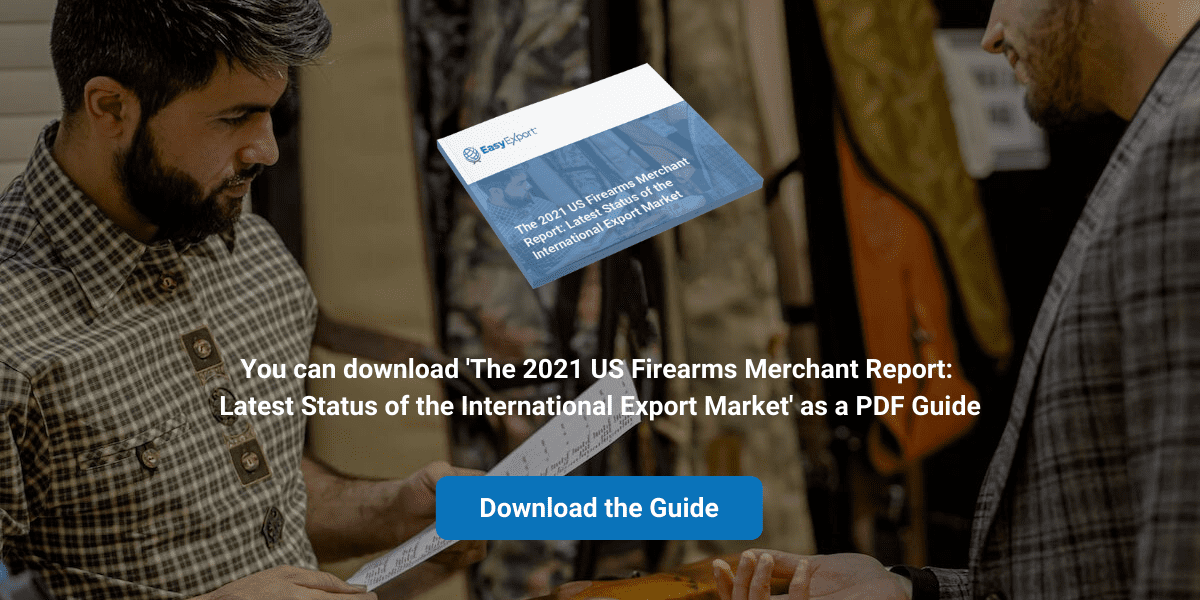 Looking to the future
What does this mean for American sellers? Opportunity. With global demand set to increase, now is the right time for merchants considering opening up their business to new markets to begin researching firearms merchant processing solutions planning their firearms export process, putting international marketing plans in motion, and taking the first steps towards building a competitive global organization.
At EasyExport, we're here to help you achieve exactly that.
As economies around the world continue to recover from the COVID-19 crisis, as more merchants explore new ways to increase revenue in the face of softening US demand, and as awareness of export support tools like EasyExport grows, it is anticipated that US exports of firearms will continue to grow well into the future.
Keep up to date with the latest US export statistics and track global demand for firearms from the United States by following EasyExport's detailed EasyExport Insights reports.