If you're planning to expand your business by acquiring new international customers, then you may need to apply for an export license that permits you to ship firearms outside of the United States.
Fortunately, coming to grips with the ins and outs of export licenses for firearms isn't overly tricky. However, there are some important things that every potential exporter should know. And here are 7 of them:
1. Firearms export licenses are handled through the BIS
Most applications for firearms export licenses are handled through BIS' Simplified Network Application Process, or SNAP-R, and can be managed online. This is the system that should be used for BIS-748P licenses, which are the most common type of firearms export license.
The only exception is the DSP-5 export license for fully automatic firearms, firearms using caseless ammunition, and certain other guns. These are handled through the Defense Export Control and Compliance System, known as DECCS.

2. Not all firearms and accessories require a license
95% of all items exported from the United States do not require a license, so it's important to double check that a firearms export license is needed before making an application. For example, most fiber-optic and iron sights can be exported to most destinations without a license.
It all comes down to the classification of the item. Typically, all pistols, revolvers, centerfire sporting rifles, rimfire sporting rifles, and sporting shotguns with less than an 18-inch barrel length will require a license.
3. A firearms export license is customer-specific
A firearms export license is granted to an exporter. This can be confusing, with many believing that once a license has been issued, merchants can export firearms from the USA as they please. However, a firearms export license is customer-specific; it's granted between one merchant and one customer.
This means you'll need to apply for a license for each individual customer purchasing a license-requiring product when carrying out international firearms sales. Merchants can export firearms to a licensed customer for up to four years before a reapplication is needed.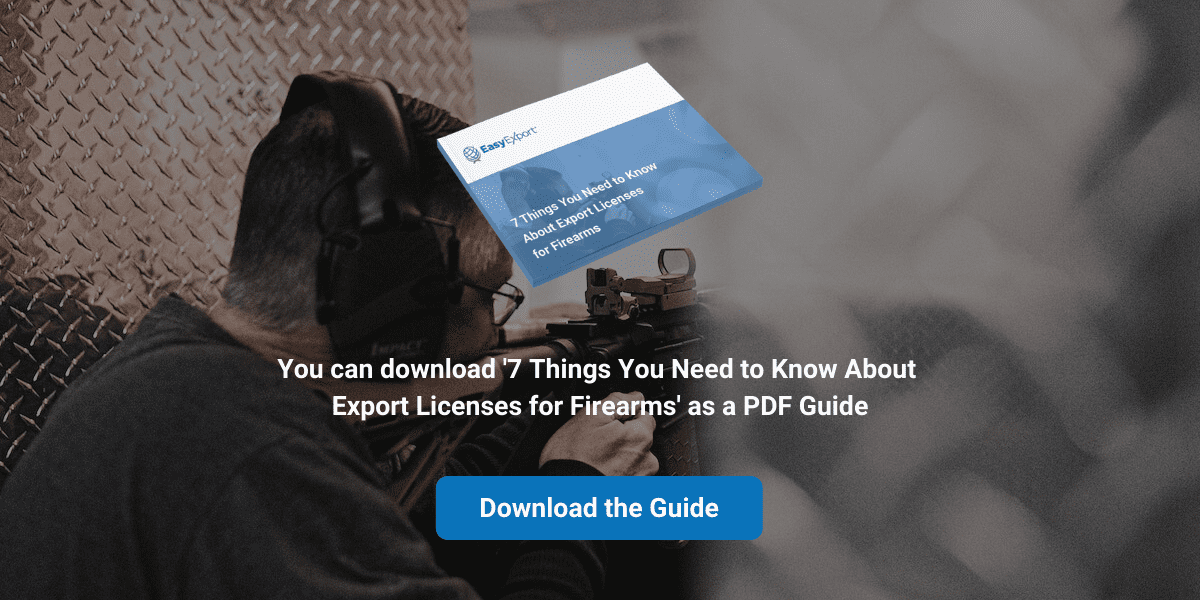 4. A license does not automatically mean you can export
While a firearms export license permits a merchant to export firearms, it does not necessarily mean that goods can be shipped to a customer. There are two additional aspects to take into account.
First, restricted party lists. Exporters must check to make sure that international sanctions have not been imposed on their customer. This can be done by searching the consolidated Screening List.
Keep in mind that the Screening List can change after a license has been issued, so it's important to track these changes as part of your firearms export process. Secondly, import licenses. While you may be permitted to export a firearm, your customer may not be permitted to import one.
In fact, American regulations require that firearm exporters obtain a copy of their customer's import permit before shipping.
5. You may require more than a firearms export license
A BIS-748P license will usually be enough to export most firearms and related products. However, for goods which come under the National Firearms Act (NFA), it may also be necessary to file Form 9 with the Bureau of Alcohol, Tobacco, Firearms, and Explosives (ATF).
This is the case for fully automatic firearms and shotguns and for rifles with less than a 16-inch barrel. It is always necessary to check the classification of a firearm prior to applying for a license. You must also know whether a Form 9 should be obtained before shipping.
6. There are consequences for the unlicensed
Although it may seem quicker and easier to simply export firearms without the appropriate firearms export license, there are serious consequences for doing so. If you are shipping firearms without the proper licenses and permits, goods could be seized at customs, and your business may receive a monetary fine.
Perhaps even more worryingly, a merchant may be debarred, preventing them from exporting internationally in the future. In very serious cases, a business owner could even find themselves facing criminal penalties.
7. You don't have to manage it alone
Applying for the right licenses, for the right goods, for the right customers can be a complex task, and one that's vulnerable to human error.
But what many merchants don't realize is that they don't need to manage all this themselves. Automation software, like EasyExport, removes a lot of the burden. These systems not only use AI to detect if a license is necessary when an order is placed, but also to confirm when regulatory criteria have been met.